Angling guide Rob Love reports on some nice fishing for pike on Carton Lake recently
Fishing report 02/04/15
Hip – hip hooray! According to Met Eireann the weather in the next few days is going to take a bit of a hint from the clocks going forward an hour last Sunday to signal the start of summertime.  Speaking of the clocks going forward isn't it a bit of a bum note the way we lose out on an hour's sleep the following morning?  What more than made up for Jonathans and my early, early start last Sunday was the smashing group we were guiding for on the Rye Lake at Carton House.
Meeting at the boathouse Jonathan stole the show as he bowed politely to our group of Japanese anglers. With introductions over the group took it in turns to fish from the boat (two at a time) at the weir end of the lake while the remaining four anglers fished the upper end.
Unfortunately the preceding nights heavy rain fall had seriously reduced water clarity and as a result fishing was slow, having said that a couple of fish were caught – one of them a nice sized fish full of va va vroom. Despite my insistence to the contrary, the angler was reluctant to hold the fish for a photo as he was very nervous about being attacked by the amount and size of teeth being displayed, and so we settled it gently on the smooth seat of the boat for a picture.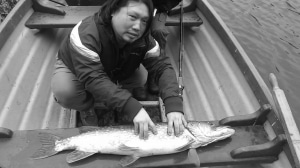 Another pike caught from the boat was probably the smallest I have ever seen from the Rye but you wouldn't have known it from the joy his captor displayed when the 'Jack' was netted – and thats what perhaps summed up this group of good natured and remarkably polite group of anglers who were full of enthusiasm and great fun to guide for on such a slow day.
With mention of fun, I managed to get out and test one or two new flies fresh off the vice yesterday afternoon on the Sheet of Water – also at Carton House. In the short time I was there fishing was superb. Its stocked with rainbows and they certainly took a fancy to one of my flies which I call 'Lovers revenge'.
The Sheet of Water is another option to visiting anglers at Carton House and complements quite nicely the pike fishing on the Rye Lake and rather challenging and technical pursuit of wild brown trout on the Rye Water.
Rob Love