Emma Stanley reports that areas such as Lough Derg, Banagher, Clonfert, Meelick and Shannonbridge are fishing very well this week regards Pike with catches up to 25lbs being reported.  The general consensus is that there is no shortage of Pike in the Lower Shannon River Basin District at the moment.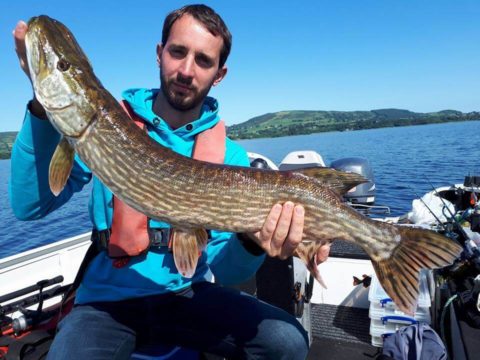 TJ from TJ's Angling says that in yesterday's bright calm, conditions that deep trolling was doing the business. Often deep trolled fish come up experiencing a version of the bends, or barotrauma. This happens when the fish is brought to the surface faster than its body and swim bladder can adjust resulting in the fishing getting "gassed up".  the body can be visibly bloated and sometimes the swim bladder might be visible in the mouth or the eyes bulge. Anglers can help fish like this recover faster by returning them to the depth at which they were caught using a tool called a descending device. A DIY version can be made from an inverted barbless hook with a weight. With this device, secure the weighted hook in the lip, allow the weighted hook to carry the fish to the desired depth, and release the fish with a sharp tug on the line. Big fish need more weight – allow about 8oz per lb of fish.
For more see: Let em down easy returning a fish to deep water
Go fishing…
TJ's Angling centre
TJ's Angling centre arranges trips and offers support to anglers visiting the Lough Derg area.  All our guides are local anglers with a detailed knowledge of Lough Derg and its surrounds. All equipment needed can be supplied or if you prefer to use your own, our guides will be happy to offer advice on methods and baits to use, full or half day trips are available, contact us for prices and available dates.
Telephone: +353 (0)87 8108225
E-mail: info@tjsangling.com Website: www.tjsangling.com
Irish Fishing Tours
Our comprehensive packages include a guiding service, boat and tackle hire, food and accommodation. Using our local knowledge, we have carefully selected a range of accommodation to suit all tastes and budgets.
Paul Bourke
Tel: +353 (0)87 1953554
Web: www.irishfishingtours.com Email: info@irishfishingtours.com
Peche Irlande Passion
Cedric Charpentier offers some of the best fishing pike fishing holidays available in the Shannon area. Concentrating on Lough Derg he has boats and accommodation available. With over 10 years experience he is sure to organise an unforgettable angling holiday.
Mobile: +353(0)86 22 10 900
E-mail : info@peche-irlande-passion.com
Web: http://peche-irlande-passion.com
Pierre Monjarret
Pierre Monjarret moved to Ireland in 2007 to pursue his dream as a guide. It is now many years since he cast his first line on Lough Derg. Throughout that time his passion for this lake has never faded, always something new to learn, new techniques to develop and challenges that remind you why you love catching big fish!
Address: Killaloe, County Clare, Ireland
Telephone: +353 (0)87 215 83 37
Web: www.pierremonjarret.com
Facebook: https://www.facebook.com/pierre.monjarret.1
Black Bay Lodge
BlackBay Lodge overlooks Lough Derg,  is located in a strategic position close to several fishing spots having different types of water and environmental conditions. We look after our guests during his daily activities: from the selection of the most appropriate lure to the accurate teaching of precise techniques.
BlackBay Fishing Lodge, Co. Clare, Ireland
Mail info@blackbaylodge.com
Phone +39 342 8015973 or +353 (87) 711 4081
Web:  http://www.blackbaylodge.com/