A return to Lough Ramor yesterday Wednesday 21st November revealed further pike action for a number of old and new visitors to the venue. Some anglers had visited the venue in Virginia Co. Cavan before and recorded success while some anglers who had not been there before and never caught a pike were hoping to have a glimpse of this apex predator. The action had slowed on previous days due to weather but the action was good again during my visit yesterday. In previous days, 19lbs was the heaviest fish recorded at the venue. Best fish yesterday was taken by Liam Tully from Blanchardstown in Dublin who landed a hard fighting 11lb fish which was taken on a roach dead bait.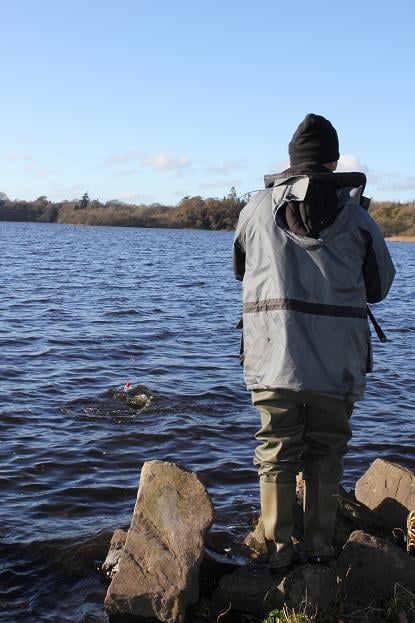 The weather was perfect, for the time of year, a moderate  breeze and good light with some cloud which built as the day progressed. Johnny Curtis from Navan who was also fishing at Ramor masterfully regaled the assembled audience of anglers with some hilarious fishing stories. The "craic" was ninety and the hilarity was only disrupted when another pike was being landed. Anto Kelly from Crumlin who was also visiting the Co Cavan venue landed his first ever pike yesterday, a small but well conditioned fish which was taken on a float fished dead bait.
The action continued when there was another take on a float fished dead bait and Jason Gavin from Navan struck into another small jack pike which was expertly played landed , photographed and returned unharmed to the lake. A great day was had by all!